se:matrix – storage space meets zoning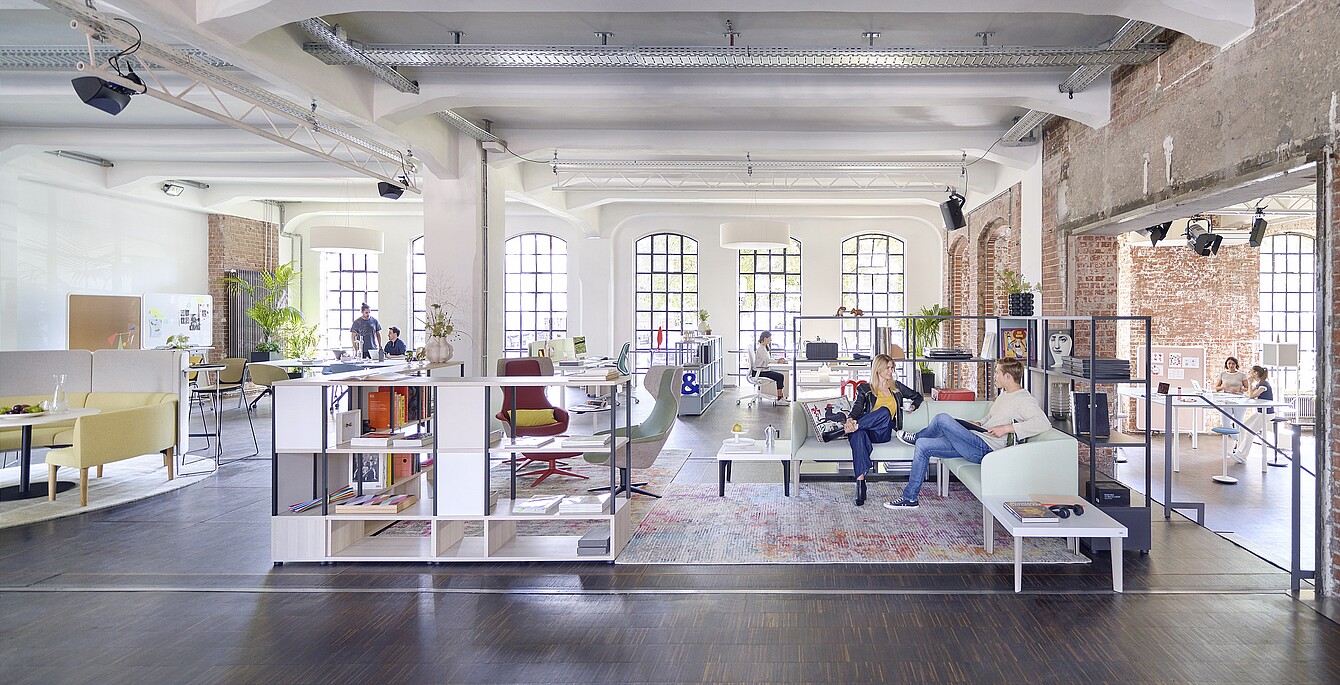 Here you can download the PDF file of the press release:
Desk to desk, adjacent to a pedestal, was yesterday – today, offices are defined by non-territorial workplaces and open spaces. In this context, efficient use of space and areas designed to meet specific needs are a major focus. Where can collaboration and exchange take place and where can I find a separate space for myself and my office necessities?
Furniture that supports individual design and a multifunctional environment is of particular value. se:matrix is a perfect combination of these features – it functions as storage space, as a zoning element and as a design element. The open shelf from Sedus can be adapted to what is needed in the working environment and also adds a certain informality to the office. As a result, well-being becomes the standard.
"Due to its numerous configuration options, the new se:matrix shelving system is a game changer for modern room and space design," explains Ernst Holzapfel, Head of Marketing at Sedus Stoll AG. "It not only provides storage space but also works as a zoning element. The standard built-in functional layer in each shelving unit also ensures optimal power supply. The electrification can be easily led through the room and supply workstations nearby".
se:matrix – modular with many design options
Individual design can be so easy. se:matrix is planned in large modules and can be configured in different ways, depending on the available floor area, the required storage space and personal taste. A variety of shapes and configurations are possible: Linear or right-angle, varying in height and flexible in its total length. The system is based on the three standard modules, which can be combined to create different settings via linking elements.
The shelving module in detail:
The open shelving modules offer the greatest possible transparency and can allow access from one or two sides, according to the user's preference. The compartments provide space for brochures, books and folders or stylish decorations to create a homely feel. The standard functional layer for electrification is always integrated at the very bottom and ensures easy access. The height of the second shelving level corresponds to a standard desk height (74 cm). This way, the shelf can be used as storage space next to the desk and as an extension of the working area.
• Width: 400–2000 mm
• Depth: 400 mm
• Height: 740–2015 mm (min. 2 to max. 5 shelves)
• The lowest level is always the functional layer (incl. cable tray)
• Optionally, the functional layer can be fitted with a back panel or with a flap and back panel.
The cabinet-shelving module in detail:
If more screening or lockable storage space is required, we recommend using cabinet-shelving modules. The system is based on cabinet elements that can be extended by adding shelves up to a height of 2015 mm.
• Width: 400–2000 mm
• Depth: 400 mm
• Unit with plinth height: 2 or 3 binder heights
• Total height: 740-2015 mm (bottom cabinet incl. shelf layers)
• Unit with plinth front options: Wing door, open compartment or drawer (for 800-mm segment width)
• Optionally, it is possible to integrate an electrification system. In addition, it is also possible to integrate a lock as an option.
The monitor module in detail:
Monitors close to the workstation are important for video conferences or visualisations in team meetings. The monitor module can be installed individually or combined with shelving or cabinet-shelving modules.
• Width: 1600 mm (for monitors max. 65 inch) or 2000 mm (for monitors max. 85 inch)
• Depth: 400 mm
• Height: 2015 mm
• Detachable back panel (for easy and concealed electrification)
• incl. 3-way socket
• Optionally, the module can be designed to accommodate monitors with or without a VESA mount. A whiteboard on the back panel and round grommet in the side panels for routing cables through are also possible.
se:matrix – room divider with added value
Storage space is not just storage space. Classic sliding-door cabinets offer space for all kinds of documents, yet their usability is limited. se:matrix shows how the evolution of modern cabinets and shelving works. The height of the second shelving level corresponds screening and zoning as well as storage space. Practical additions, such as a monitor module or whiteboards, turn the shelf into a collaborative piece of furniture and offer added value for every workspace.
Whether as classic storage space, integrated as a room divider or as a creative work tool – se:matrix can be configured according to individual requirements and situations. The profiles, PET panels and melamine surfaces can be selected in a colour that optimally matches the surroundings and conveys a homely character.
The four colour trends Smart Balance, Urban Living, Soft Being and Multi Creation from Sedus create a harmonious whole into which the new se:matrix shelving system blends in perfectly.
The new model will be presented to the public for the first time at Orgatec from October 25 to 29, 2022. The Sedus booth is in Hall 8.1, C048, E049, C050, E051.