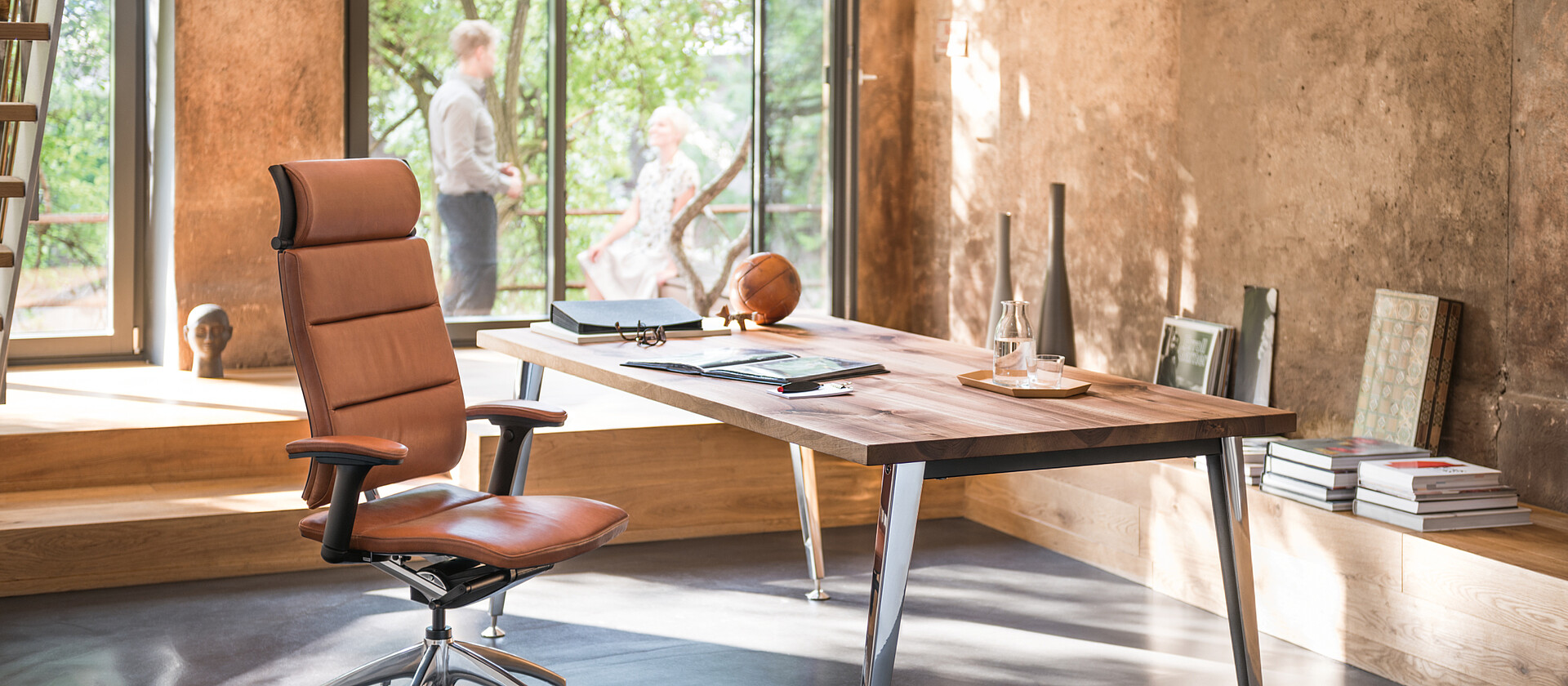 Swivel chair & cantilever visitor chair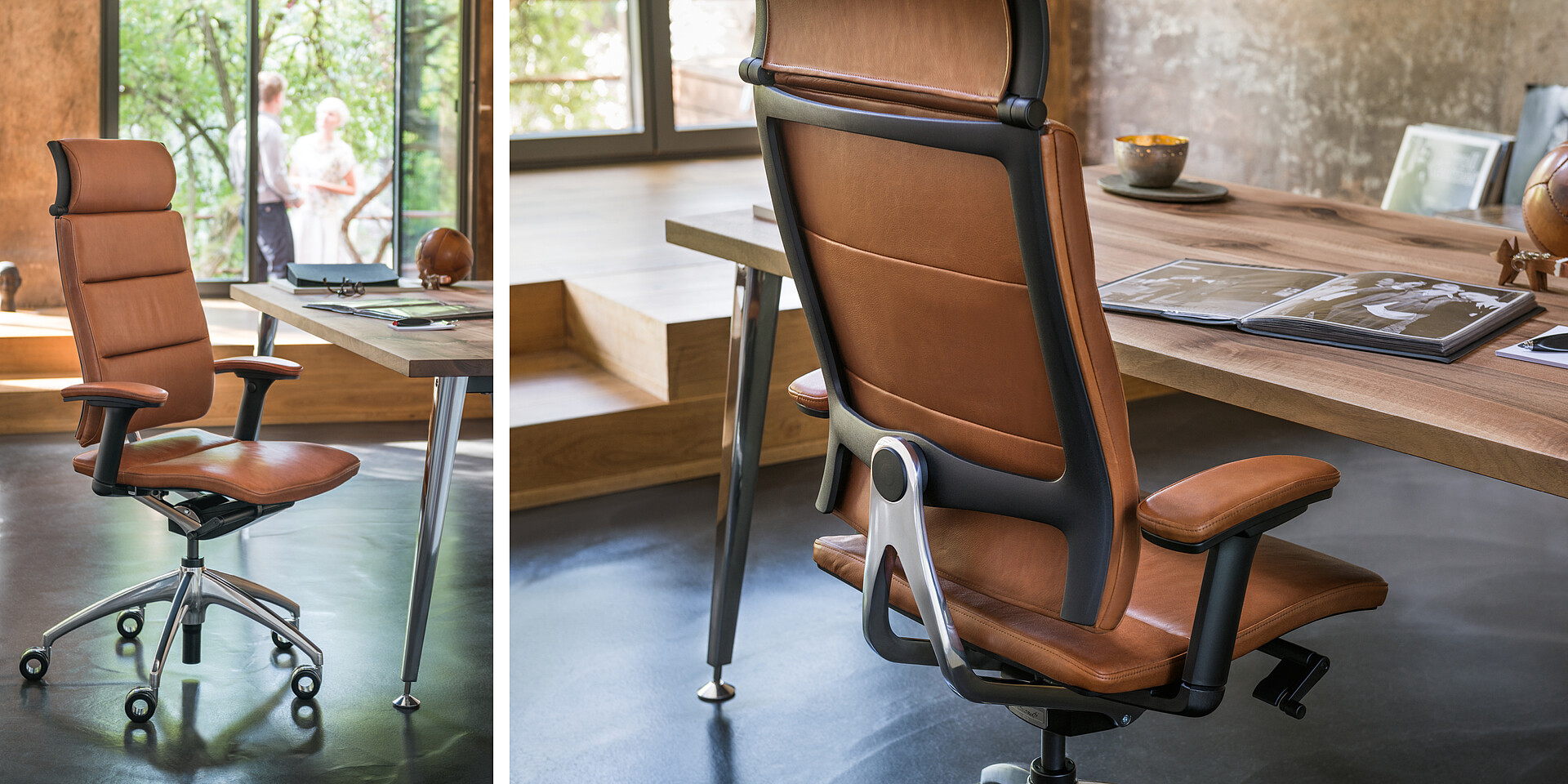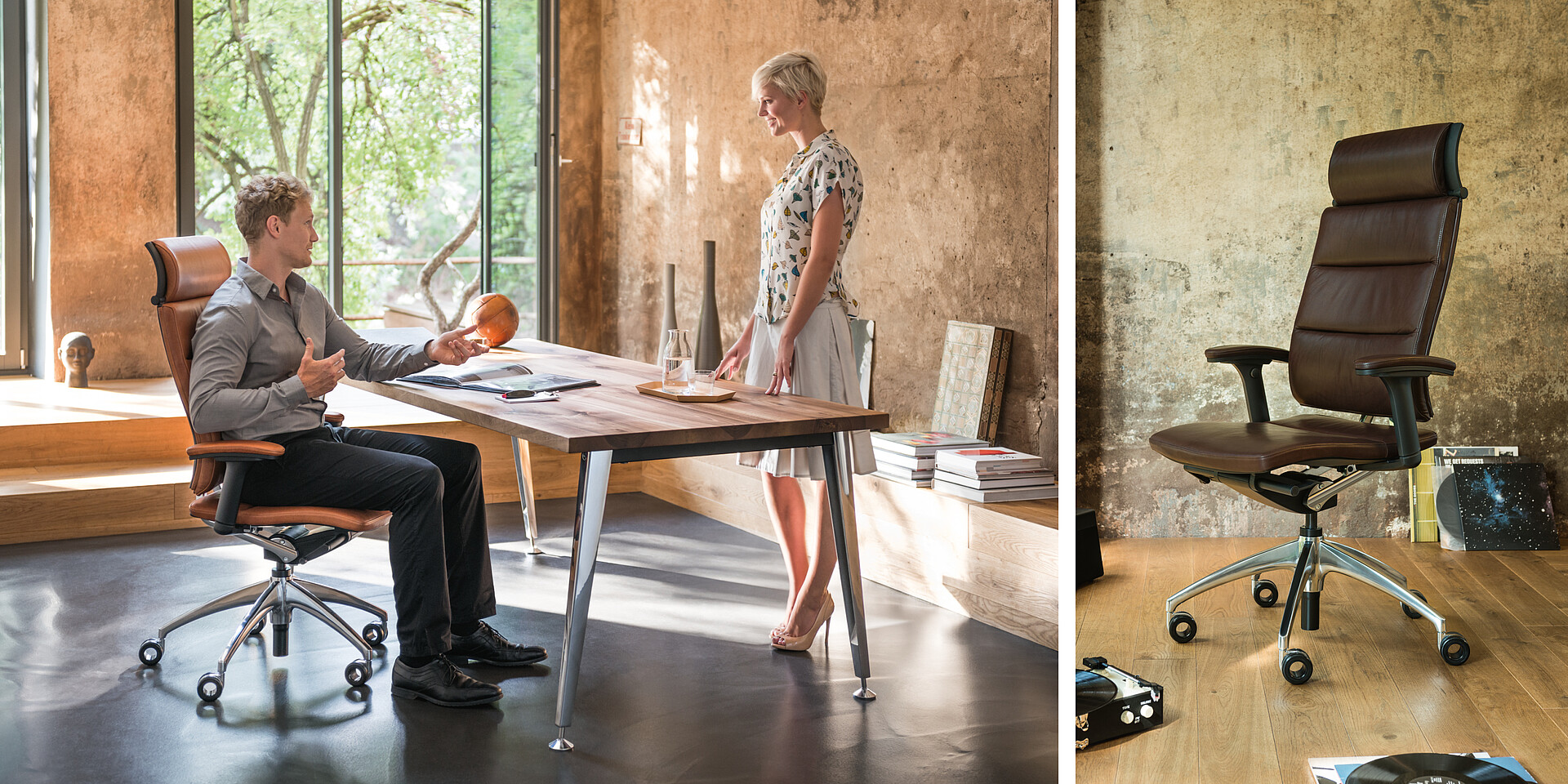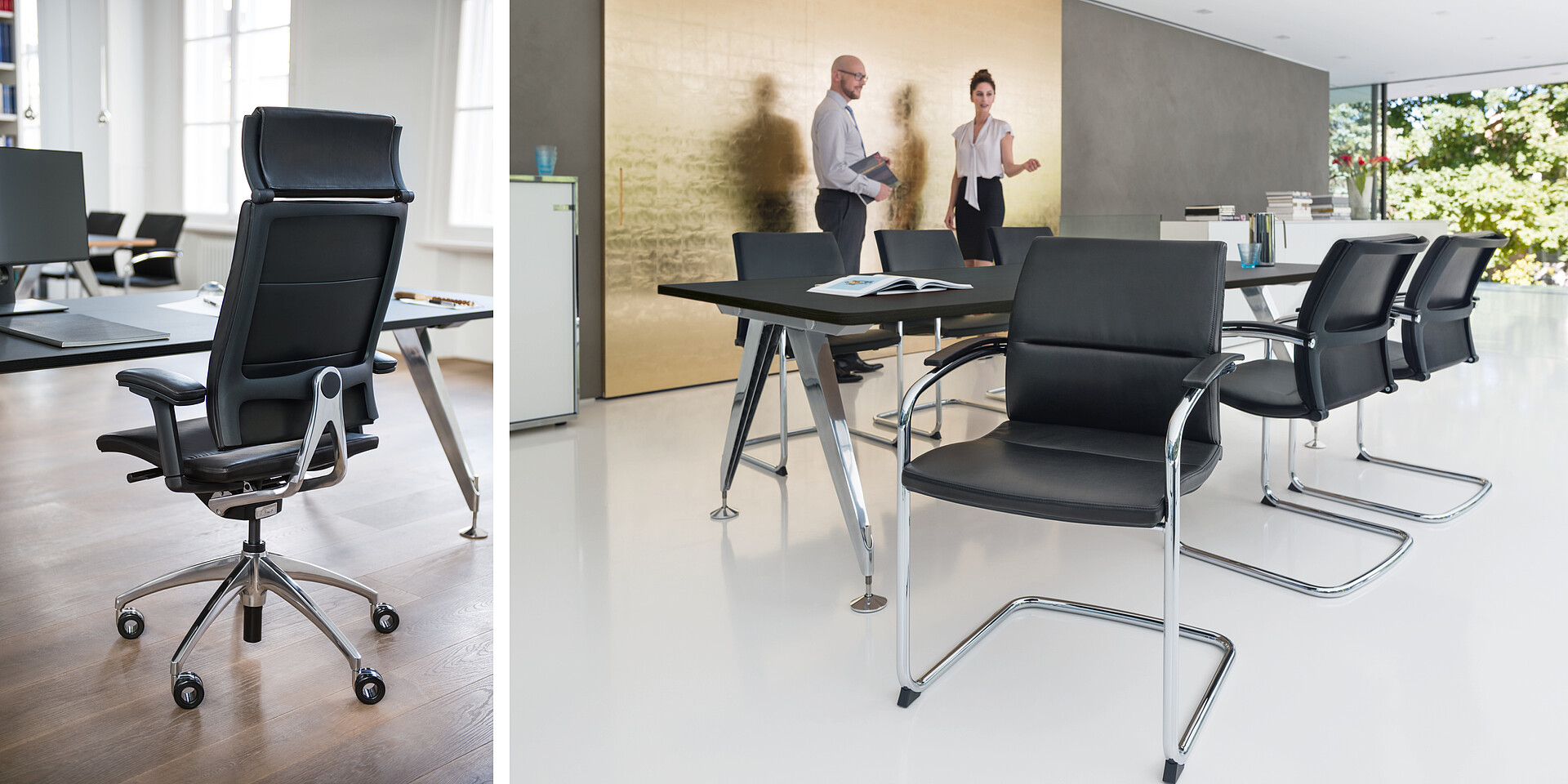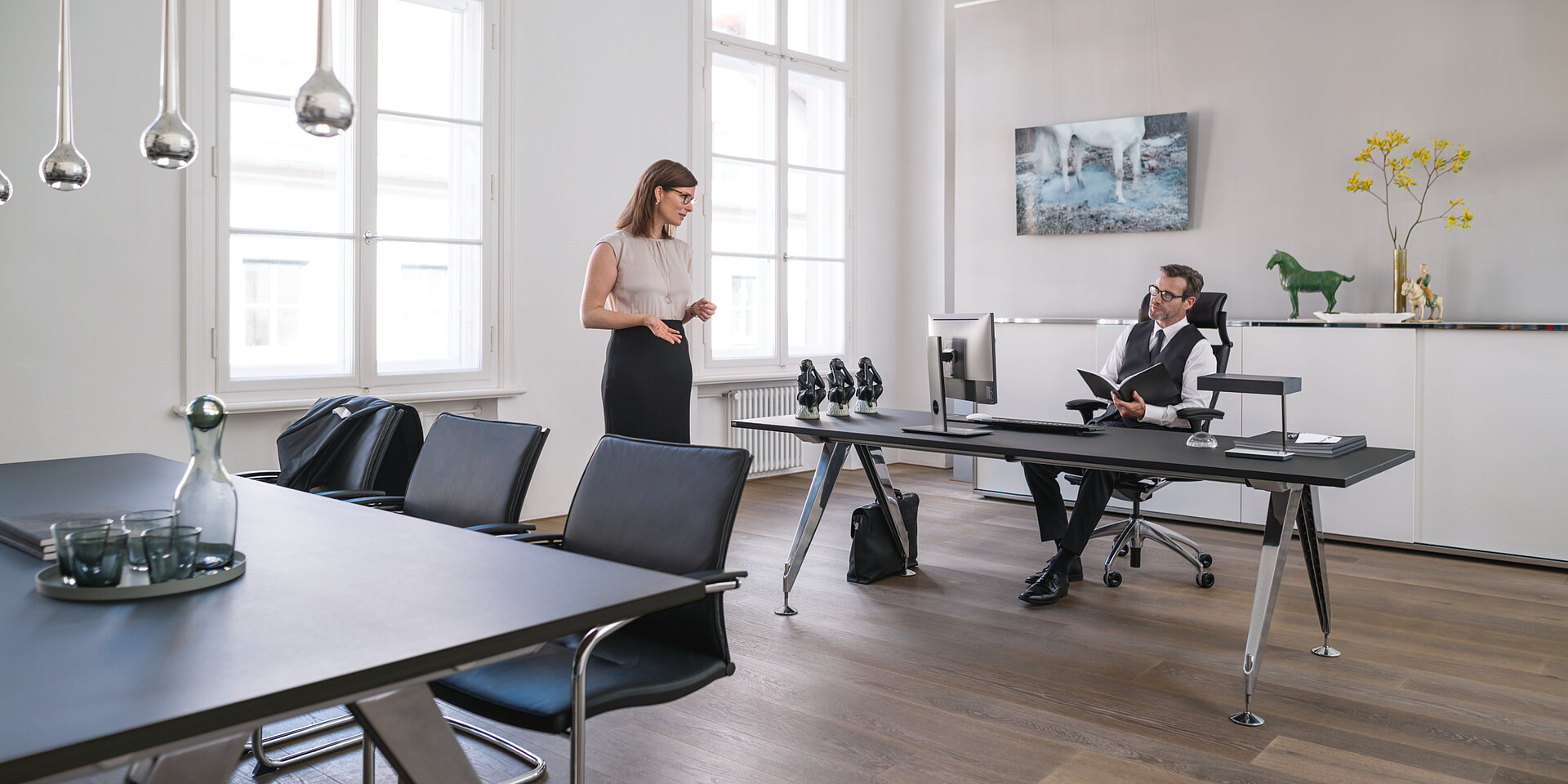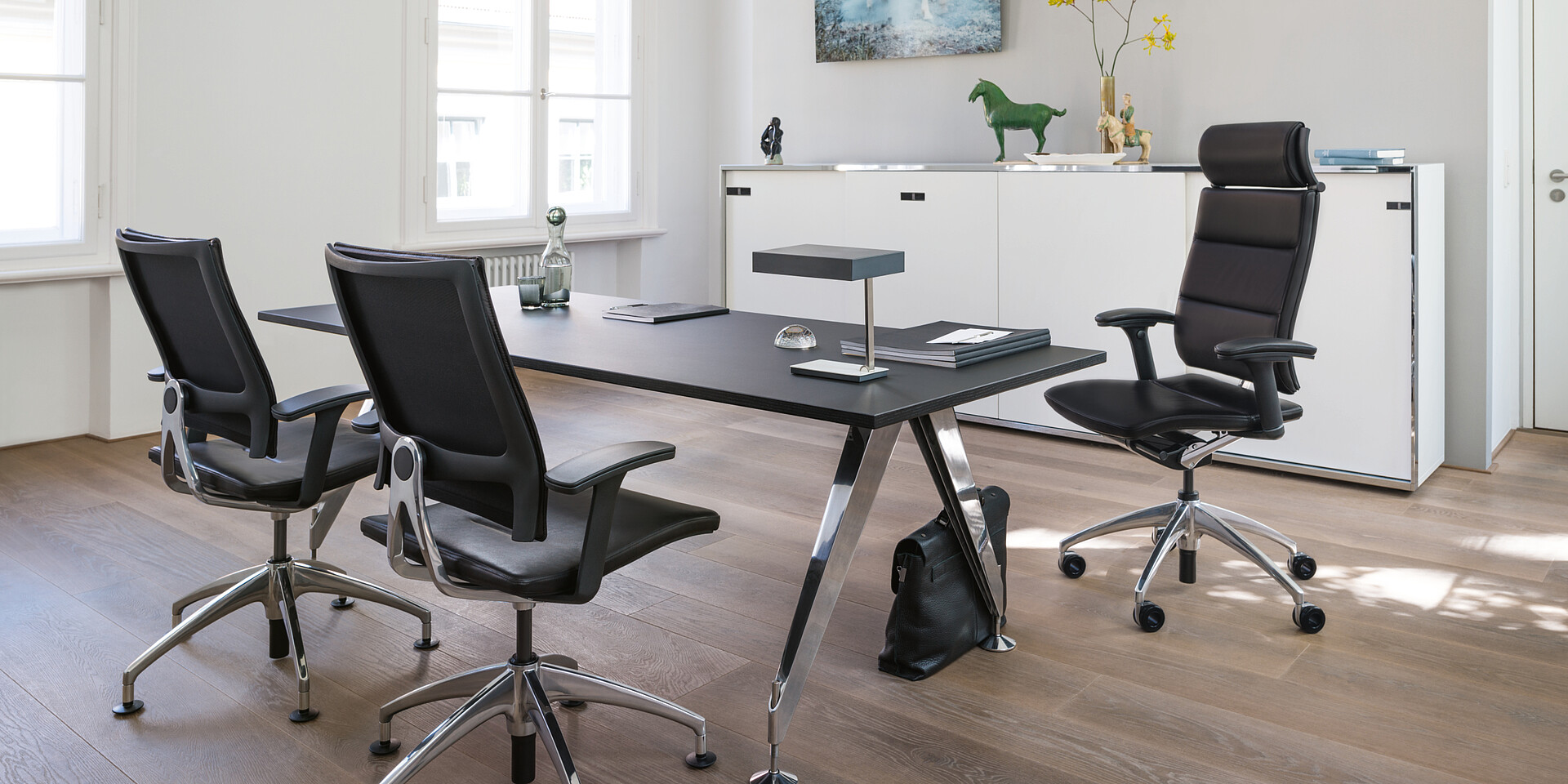 Craftsmanship that gets the heart beating faster
How can a superb design be improved on even more? The answer: with real craftsmanship. Sedus open up modern classic shows this in a way that can be experienced with all the senses. One example is the soft, full-grain aniline leather with its very special feel. The natural characteristics of the leather are retained and have an especially high-quality look. At the same time, inviting upholstery offers additional comfort that the stepped look of the cushion effectively underlines. Each open up modern classic is made by hand and bears the signature of the Sedus employee who made it. Made in Germany.
Cosy
Generously dimensioned armrest pads match the comfortable upholstery of the backrest and seat in every respect.
Perfect
Genuinely hand-made – confirmed by the signature of the Sedus member of staff who made it.
Aesthetic
The high-quality castors with tread protect the floor covering and attract admiring glances.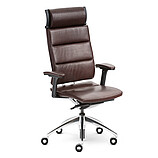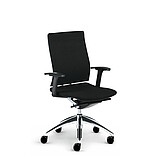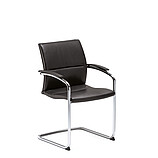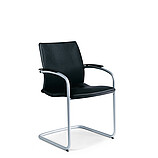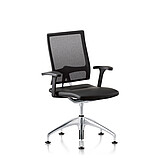 Swivel chair modern classic
Swivel chairs with neck support

Cantilever modern classic
Backrest
Leather brown
Leather cognac
Leather dark brown
Leather black
Backrest
membrane cover
flat upholstery pad
Backrest
membrane cover
flat upholstery pad
Backrest
Leather brown
Leather cognac
Leather dark brown
Leather black
Backrest
membrane cover
flat upholstery pad
Backrest
membrane cover
flat upholstery pad
Base
Aluminium:
black,
white aluminium,
polished
Base
Aluminium:
black,
white aluminium,
polished
Base
Aluminium:
black,
white aluminium,
polished
Base
Aluminium:
black,
white aluminium,
polished
standard
optional
Backrest
Backrest with leather upholstery pad
Adjustable backrest pressure
Dorsokinetic backrest
Armrests
3D armrests with leather covers
Seat mechanism
Similar mechanism
Seat height-adjustment
Gaslift with mechanical depth-springing
Base
Aluminium base, polished
Model colour
(mechanism and plastic parts)
Black
Specification
Hard castors for soft floors
Neck support, leather colour matches the upholstery choice
Soft castors for hard floors
Dimensions
open up

User weight
Recommended for user weights up to 120 kg
Seat

• Anatomically shaped seating surface with pelvis support, seat hollow and rounded front edge of seat
• Shaped foam (polyurethane foam)
• Upholstery thickness 40 mm
• Width 485 mm, depth 450 mm

Seat height-adjustment
• Gaslift with mechanical depth-springing: reinforced cushioning of the body's weight even in the lowest seat position, height adjustment
420 - 550 mm
Base
• Aluminium base polished
• Hard or soft castors with 65 mm diameter
Backrest
• Backrest frame with triple stitched backrest upholstery in premium leather version
• Flexible connection to the backrest frame (dorsokinetic system) ; in combination with the Similar mechanism the backrest reaches a wide open angle of 45° (depends on the weight of the user)
• Neck support completely recovered with leather, adjustable in height and tilt, vertical 90 mm, forward 80 °
Armrests

• 3D armrests with leather covers, height adjustment 100 mm (210 - 310mm)

Mechanism
• Similar mechanism with tension control: balanced force curve due to coordinated spring concept
• Seat and backrest move completely synchronised with the body
• Synchronicity relationship between seat and backrest 1:2.7
• Adaptation to different user weights enables sensitive latching of the rapid adjustment mechanism (leaning pressure 450 - 1200N and 550 - 1500N (stronger spring) [10N = 1 kg])
• Backrest inclination to approx. 35°, can be locked in virtually continuously variable manner (11 different settings)
• Permanent back support even when the backrest is inclined backwards at a wide angle, due to uniform force distribution of the mechanical springs
Standards / Certificates

• GS label by TÜV Rheinland LGA Products GmbH / DIN EN 1335
• Ergonomics Certificate by TÜV Rheinland LGA Products GmbH
• Tested for harmful substances by TÜV Rheinland LGA Products GmbH
• QUALITY OFFICE quality seal
• GREENGUARD certified
• AGR quality seal - Healthy Backs Campaign
• iF product design award 2001
• Red Dot Design Award 2000
• Design Award of the Federal Republic of Germany, 2002
• best of NeoCon 2001, silver award
• Baden-Württemberg International Design Award 2003

Warranty
5 years